Half deflated balloons drag and bounce across my carpet, propelled from the humming air conditioner. My house looks like a bomb exploded in it, and I'm pretty sure half my family caught pneumonia last night. But Luci is 5 years old.
I study her little sleeping face next to me. Examining her features, searching and searching for any hint of "toddler" left. Most of it's gone. The stubby toddler fingers, her round buddha belly, and wild wispy hair are all quickly being replaced by a growing girl who wants her brother to stay out of her room and draws a line of clear distinction between "her toys" and her sisters "baby toys".
Her princess dresses that she wore faithfully for 2 years straight hang quietly in her closet. Disturbed about once a week for fun, but usually overlooked and passed by. Picked over in favor of a Justin Bieber t-shirt or a pair of fancy shoes that match a purse.
Her maternal instinct has been in high gear since she was born. On days she leaves me to go to Maw-Maw's house, she comes to me with a handful of her "kids" for me to watch for the day, with instructions for each one. Who needs to take a nap, who is hungry, who has dance class. And when she comes home later that afternoon they better not be in the same places she left them or she will have a melt down. So I carefully place them: "Madden" in a high chair, "Baby Boo Boo" taking a nap, "Cleo" watching television, etc…
She comes home, searching the house room by room for her "kids" with a prideful smile and tells me what a great job I did watching them.
It's exhausting, like having a damn "Elf on the Shelf" times 50.
Her actual birthday was a week and a half ago. We celebrated with pink cupcakes for breakfast and a trip to her favorite hair salon for a trim and some toenail painting.
But her party was this past weekend.
I always prefer birthday parties right here under my own roof, but Luci has been begging for a swimming birthday party for 2 years, so we went with it.
Almost everything that could go wrong, did.
I plan things very far in advance. I knew she wanted a "Rapunzel" party based on her favorite movie, so I pre-ordered some floating Chinese lanterns (like the floating lights in the movie) months ago….and then we had a drought. After tossing and turning over it for weeks, I just decided that it wasn't safe and I didn't want to risk burning down someone's house over a birthday party.
I thought I hit jackpot when I found pink LED light up balloons. They were perfect and we would release those instead. So I bought 40 of those, and rented helium tanks to fill them with, but they lost their helium after about 2 hours and wouldn't float anymore.
The custom CD we burned for the party -with her favorite songs and a personalized princess song- was a bust because the CD player at the pool wasn't working.
And then it started raining…at a swimming party.
I took one look at my girl, who was looking at me to take the lead.
I remembered how badly she wanted to go down the waterslide but was too short. I also knew the manager of the pool was named "Jake" because I dealt with him when booking.
So I grabbed Luci's hand and led her up 4 flights of wet stairs and told the 16 year-old lifeguard, "Jake says she can go down on my lap because she is the birthday girl." The life guard nodded, and down we went.
She giggled the whole way, so loudly, and she yelled to me "I thought I was too little for the slide" - Not today I said, it's your birthday you can slide all day. "I love my swimming birthday party" - she shouted. And that, made my night.
The rain stopped after about 5 minutes and the water wasn't as bad as we thought. And heck, the kids didn't care. They would swim in ice water.
The people who mattered the most were there, they showed up, swimming their butts off in the rain, because they love my little girl. I couldn't stop thanking people. They could have stayed home on a rainy night, huddled on the couch, I'm sure alot of them wanted to. But they were there to celebrate with me 5 years with a little girl who makes all of our lives a little better just by being in it.
They say it takes a village to raise a child and I love my village, every single one of you.
In the end she couldn't decide between a Rapunzel or Justin Bieber party so we went with both. And yes that is Luci's head photoshopped onto all those photos with Justin :)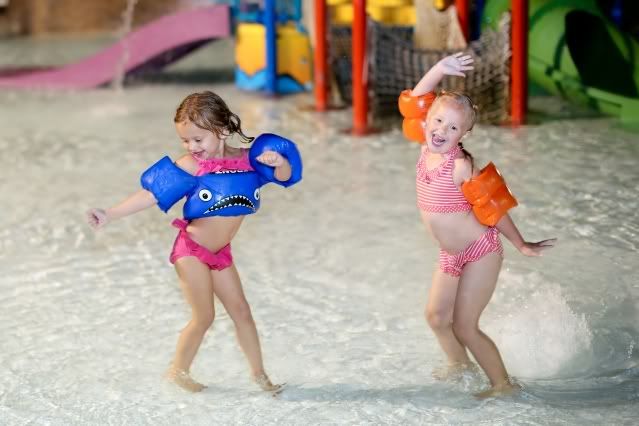 Somewhere throughout the silliness of the night someone violated poor Rapunzel.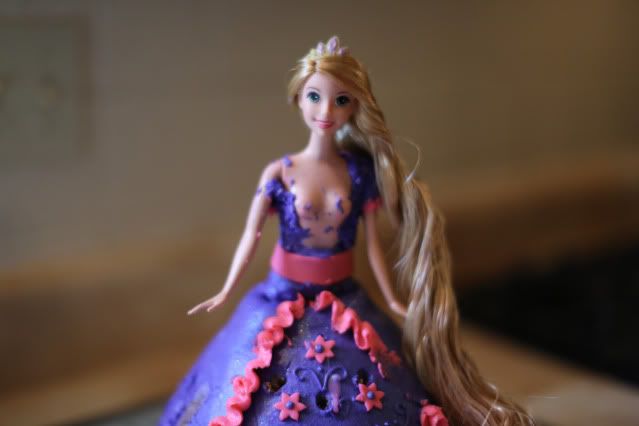 We blamed Uncle Michael but the real culprit was my own son and his cousin!
Happy Birthday Luci, you are loved more than you will ever know. Thank you again to those friends and family members who made the extra effort to celebrate with us. I will be forever thankful.