Well, he did it. I am the proud momma of a pre-school graduate. Which means in just months I will be sending him off to the jungles of Kindergarten where he will be away from his momma 8 hours a day 5 days a week...but I'm still trying to believe that's not real, so let's move on.
I was very proud of Rocky because he is not my "stage performer" he hates standing on stage in front of an audience singing songs, he usually tries to hide in the back, and every time he comes off stage and I say
"Did you have fun?"
and he says
"No, I felt s

illy" -
but he did REALLY good :)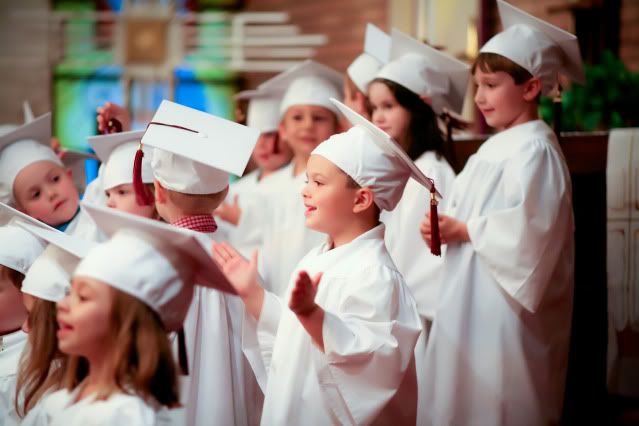 No, Rocky is not a "performer", he is my sports nut. I knew it from the time he was very little. He would rather watch ESPN than cartoons. He didn't learn to walk until he was 16 months old, and by 18 months he could dribble a soccer ball.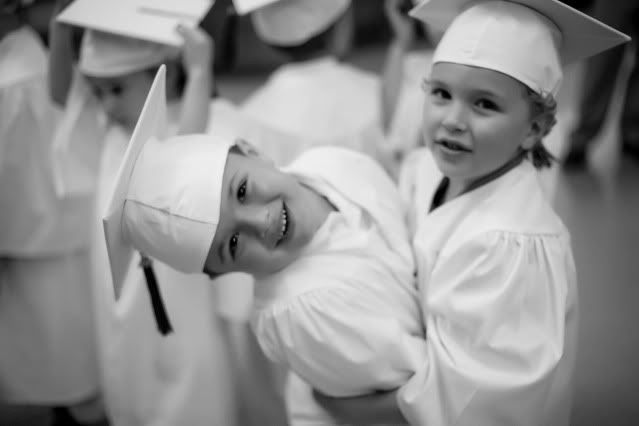 People often ask me how I handle a 5 year old playing baseball, hockey and soccer. But it's simple, he loves it. It's important to him, it makes him feel good about himself and gives him a sense of pride. I think as a parent it's important to just observe those first few years of life and see what your kids are interested in, then give them the chance to flourish.
...and of course Luci was in the crowd...you know...trying to go un-noticed and all.
From the time she was born she made it very clear to us that she had her own ideas about how things should go. She has more creativity in her little pinky than most people have in their whole body, which is why we let her dress herself.
She changes clothes about 4 times a day, shoes about 10. She sleeps in her "high heels" every night. I got really tired of taking her to the grocery store in various ridiculous costumes, etc... so we made a deal. Mommy picks out her dress and she picks out her accessories, note she has on 2 bracelets, 2 rings, a baby, a purse and cowboy boots and glasses. This is an everyday thing with her, she wants to be the center of attention everywhere she goes, and so we let her. Again because she loves it, it makes her feel good about her self and gives her creativity an outlet.
The only time I put my foot down was when she was begging to wear her brothers Hockey Helmet to the pool last summer.
...and then there is her... Libby Lu. I cannot wait to see all the neat things she has in store for us. I think she will be our gentle soul, so sweet and so patient. But we will see.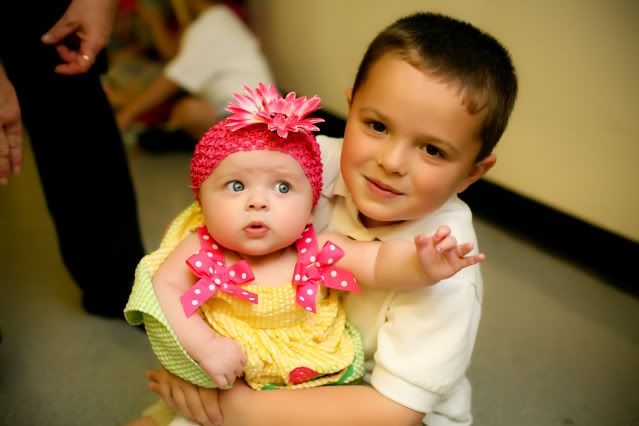 If there was an award for "Roundest Baby" she would win, hands down. With her round little head, big round eyes, little round nose and little round mouth.
"There are 2 great gifts we can bequest upon our children. One is roots, the other is wings"