What do you do with all those pictures?
A question I get asked alot ;)
It's true, I do take a lot of photos of my kids, keeping them all organized and in one place can be overwhelming. So I thought I would share a little bit about how I handle my family photos.
First of all I have a folder on my computer separate from all photography work I do, simply labeled "Family Photos 2011" - then, inside that folder are 12 more folders labeled Jan-Dec.
I find it's easiest to separate my photos by month rather than by a specific event. Because at any time when I get an extra few minutes I can dump them into the current months folder and deal with them later. Then usually sometime around the end of the month I do what us photographers call "culling" - which mean, deleting all the crap.
Now here is where people mess up. Folks, you gotta delete stuff. If I go to one of Rockys baseball games I might take 30 or 40 photos. But I pick my favorite 5-10 pictures from the game and then I delete the rest. If you are feeling overwhelmed by your photos it's because you're holding on to less-than-average photos for dear life for no reason at all. I do the same thing with any event. I probably took 50 pictures at Libby Lus birthday and kept about 12-15 the rest are gone. I simply don't need them. I don't need 12 pictures of her blowing out her candles. I need 2 or 3.
This might be hard to get used to the first couple time you do it. Dragging those images into your trash bin might make you a little queasy but I promise your kids will joy 2-3 good pictures of them learning how to ride their bike than 20 mediocre ones. Learning how to "let go" and keep your photos condensed to only the important ones is half the battle.
Then, I take all those photos, from all 12 months, and every year I create a book called "Stories From Mom"- I make the book using www.shutterfly.com a super easy, user friendly, consumer program. Anyone can figure their books out, it is simple drag and drop layouts. (I never wait until the end of the year to start the book. I sit down at least 3-4 times and year and knock out some pages.)
And I almost danced a jig when this years book arrived. Even though I know what every page says it's still so fun to hold it in my hands. Here is a peek inside this years book.
Every single important event of our year is documented in here. Big things like birthday parties, little things like Doctors appointments and growth stats. It is much easier than keeping 3 separate baby books. You can order multiple copies of the same book so each of your kids get one to take with them when they leave the nest.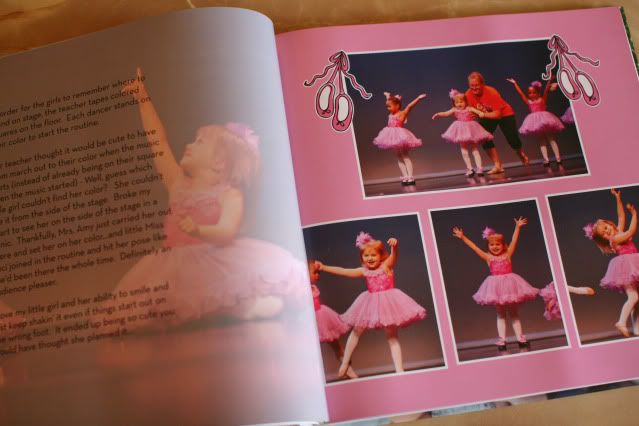 You don't have to be a professional photographer or a witty writer to document great memories for your kids. Just start doing it, it's January so you are off to a fresh start! Start your book today!
Now let's talk about walls. In the family room we have regular wall mounted frames. I still love frames because I can change them. I just took that photo of Rocky in November and couldn't wait to switch it out with his old one.
But I definitely get the most compliments on these. My gallery wraps. One for each kid. Printed on canvas and stretched around a wooden frame. The come ready to hang and look stunning on your walls. I love these so much, Rocky and Luci's are a little out-dated and I will probably update all 3 of these with new gallery wraps later this year.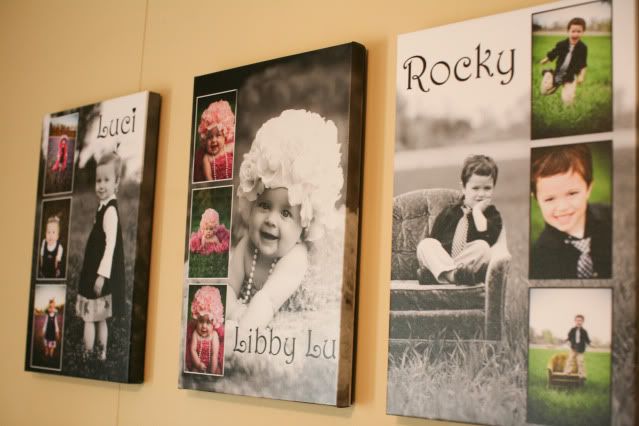 I also have a collage of standouts. Standouts are the cheaper little step-sister of gallery wraps. They hang frameless on your walls, just like the gallery wraps, but they are printed on a Styrofoam material and much lighter weight and less expensive.
And last, but not least. Little nekkid pictures of my babies in my bathroom. They all have little "censored" bars over their private parts. I think it's cute. My husband just thinks it's weird that we have photos in our bathroom :)
So there you have it. Manno family memories all wrapped up in one post. I know we live in a digital age, but to me, actual printed photos that you can look at on a wall or hold in your hand will always win in my book over looking at them on a computer screen.